About Red Letter Days
Red Letter Days was launched in 1989 when Rachel Elnaugh, former Dragon's Den entrepreneur wanted to buy her father something and ended up putting a few tickets together for some sporting events. She saw a gap in the market and saw the opportunity to package together memorable gift experiences for individuals, couples and groups to maximise the fun.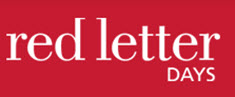 People caught onto the idea and Red Letter Days was soon in demand and grew from strength to strength. More thoughts came into action and they now have over 135,000 vouchers with a value of £17million! These are all different to suit individual tastes, occasion, budget and whether you're a newbie or a pro.
Whether you're looking for a day activity with the girls and want to be pampered in a luxury spa, or want to give a present to a special person such as a skydive or a F1 driving experience, they have everything .
In 2005 fellow dragon den friends Peter Jones and Theo Paphitis went into partnership and took over the company. They added wider experiences to the line ups such as white water rafting, hot air ballooning and bungee jumping just to name a few.
Despite the change in ownership Red Letter Days' values and aim remained the same. To offer their customers "unforgettable experiences for you and the ones you love, along with professional, flexible, hassle-free customer service."
Everything which they sell is tested so it ensures you that you or a loved one has the very best of times, and look forward to coming back to planning the best days of your life.
How to use the retailer's voucher codes
Buying someone a special gift doesn't have to be expensive, especially when you can use one of our free vouchers and get massive discounts, offers and savings. These are all different and one can only be used one at a time, but keep checking back as our fantastic team of code hunters update them daily, weekly and monthly.
Getting your Red Letter Days voucher is faster than a gift experience in a Ferrari. Just type into the search bar on the homepage of Voucher Codes Pro your retailer you wish to shop at so in this case RLD and hit enter.
You'll then receive a whole page of sensational, active vouchers which are split up into codes, deals and exclusives. These could entitle you to gifts such as an exclusive £10 off when you spend £60, save up to 70% off, gift experiences from only £44 for couples and 50% off weekend pamper days and much more.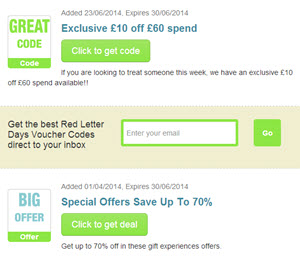 Pick the one you wish to use and click "Get the code". This will then open up a new window and take you to the Red Letter Days homepage where you can browse and buy the experience you wish to get. Once done, head to the checkout to pay. Before you put in your details there will be a promotion gift box and you put your code in there. This would have been revealed on the voucher you clicked on in the first window, type it in and this will then get validated and Hey Presto your discount will be made.
If you've chosen a voucher which says "Get the deal" then this will direct you to a certain page of where the deal is. This makes it easier for you, so you can shop the offer and then the savings such as Mix and Match on experiences or 3 for 2 will show up on the total confirmation.
If you would like to get Red Letter Days vouchers and other retailers to your inbox, then please sign up!
Give us some social media love and 'like' us at Money Saving Heroes on Facebook and tweet and see if you can get favourited @vouchercodespro.

Social Profiles and Links
Red Letter Days haveover 14,000 likes on Facebook and 15K followers on Twitter, if you haven't joined their social media pages yet, then do as you get all the latest company activity and the chance to interact with other red letter day fans. Here you'll get to enter giveaways and competitions, read reviews and check out photos of other peoples gift experiences, get special offers, gift ideas for certain events such as Christmas, Birthdays, Father's Day and plenty more.
https://www.facebook.com/RedLetterDaysUK
https://twitter.com/RedLetterDaysUK


Opening Hours and Contact Information
Red Letter Days is an online retailer only so you can access this to browse and buy off all day every day, 7 days a week. If you need to speak to someone at customer services then you can phone on 0845 640 8000 or email oncustomeraction@redletterdays.co.uk. They are available between the hours of Mon to Thurs 9am - 5.30pm, Fri 9am - 5pm
Company Registration Number
Red Letter Day's company registration number is05473745
Head Office Address
77 Muswell Hill, London N103PJ
Latest News on Red Letter Days
There's no latest news for the Red Letter Days company at the moment, but keep checking back for anything new. New experiences and offers will be happening so keep your eyes peeled.