About SportsDirect.com
Sports fans, fitness enthusiasts and trend-aware individuals should take note of the supreme retailer that is SportsDirect.com. Owned by the famous Mike Ashley, who is also the owner of the fantastic football team Newcastle Utd, Sports Direct loves nothing more than giving their customers more for their money.
There road to become the principal sports retailer in the UK has been an interesting one and along the way, it has taken many routes, but one thing is for sure; without its credible history and thorough determination, this company wouldn't have become what it is today.
Starting out as a single store in Maidenhead in the year of 1982, when it was then known as Mike Ashley Sports, over the course of 3 decades, it has developed in to Britain's largest and leading sports retailer.
Nowadays, SportsDirect Retail Ltd consists of a massive 470 stores, which are located throughout cities and towns all over the United Kingdom. This doesn't just include SportsDirect.com, but their other brands like Field and Trek, Hargreaves Sports, Gilesports and Donnay.
The fantastic thing about SportsDirect.com is the fact that they can be found just about anywhere, as there are many stores in Ireland, Belgium, France, Portugal, Holland and Slovenia, as well being a giant presence on the web too.
It doesn't matter what types of sports of fitness activities you're in to, because SportsDirect.com really do cater for all. Beginner or professional, their range of products are up there with the best, each offering unbeatable value for money. Some of the most famous brands on the market are available to purchase, like Nike, Adidas, Reebok, Slazenger and Karrimor too. Wow!
Whether you want to look great, improve your athletic performance or socialise, the clothing, footwear and extensive array of equipment is incomparable. With SportsDirect.com continuing to thrive in this competitive sector, you'll be pleased to hear that magnificent deals, offers and discounts are frequently promoted alongside their courteous customer services.
It's most definitely worth taking a look online because you'll never know what bargains you'll stumble across.
Returns Information
Unfortunately, there can be occasions where something goes wrong with your order and you'd like to return your item back to where it came. In this rare scenario, you can at least feel at ease knowing it's a simple process which you're completely entitled to carry out.
For a full refund, including original delivery costs, you'll need to return your items without 14 working days. Your items don't need to be their original packaging but must be in a sellable condition. To return an item, you will need to print off the returns form, fill it in and then send it alongside your invoice and goods to:
Customer Returns
Unit B
Brook Park East
Meadow Lane
Shirebrook
NG20 8RY
Become a Football Expert in 5 minutes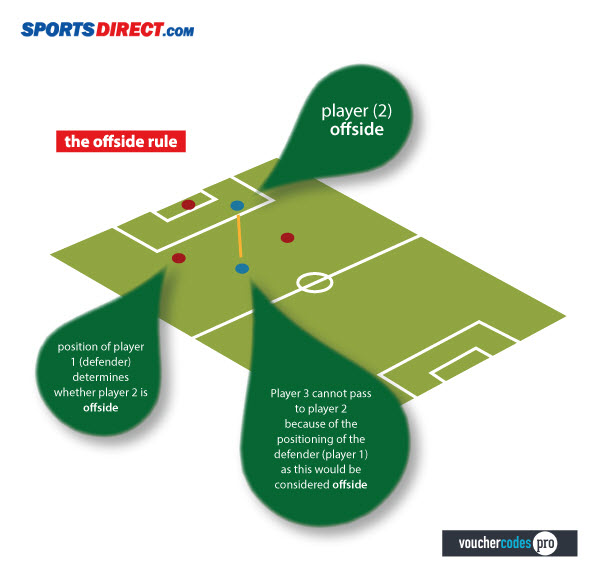 If you consider yourself a football fan, you must know the offside rule, right? But for those of you who don't, we've created a simple infographic to help you understand!
Ladies, if you want to impress your chap the next time football is on the tele, this is the way to do it! But it would probably be best not to mention it if his beloved team loses the game due to an offside goal that should have been disallowed!
Football is a way of life for some fans. However, you don't have to be a purist to know your Del Piero from your Dom Pérignon. We've got some quality football small talk for you to memorise and fall back on for any sticky situation.
Don't panic if you find yourself surrounded by footy fanatics discussing Peter Crouch's 30 yard volley at the weekend but all you can relate to is his model wife, Abbey Clancy. Take a deep breath and pipe up with one of these classic moments…
David Beckham is one beautiful man. Women love him and men want to be him. So the next time your late night taxi driver brings up how slack the Man United midfield's been lately, remind him of the day Beckham scored from the halfway line against Wimbledon in 1996, followed by "I'd do anything to have him, Scholes and Giggs back". Instant respect.
If you find yourself falling into the background noise, once the lads start to laugh when bringing up memories of Rudi Völler and Frank Rijkaard's cheeky spitting incident, chip in with one of these memorable controversies…
Cantona's karate kick. Way back in 1995, the much-loved King of Manchester, Eric Cantona attacked a Crystal Palace fan during a game. The Manchester United legend was banned for the remainder of the season and charged a meagre £20,000 for his kung fu assault.
For extra bonus points, mention how the Red Devils saw a £3m fall in their share price as a result of the incident. Follow up with the topic 'what would happen if a player did this in the modern game?' to refocus the conversation onto players you're familiar with.
Who would ever willingly want to become a football referee? The majority of the time they can't do right from wrong. To make matters worse, you have players like Sheffield Wednesday's fiery attacking maestro, Paolo Di Canio getting shirty with you. In 1998, Di Canio was punished with an eleven-match ban for his attack on Referee Paul Alcock.
Whether the ref inadvertently gets in the way of a forward pass or appears to be the only person in the ground who didn't see the deliberate hand, it's a tough job to take on. Whereas a goal scorer will have their name chanted positively, the referee's song always seems to rhyme with 'banker'…
Add to the referee banter by bringing up the unforgettable dope, Graham Poll. This English ref embarrassed himself during the 2006 World Cup in Germany. During the course of a single match, Mr Poll had managed to hand out 3 yellow cards to the same player, missed a blatant handball in the penalty area and blew the full time whistle as the winning goal was about to cross the line. It was safe to say that Graham Poll would not referee at a World Cup again.
If one of the lads picked up a knock during their Sunday League game against Greasy Spoon FC, remind them of the horrendous injuries in the Premier League over the last 10 years. Would they prefer to have their skull fractured by the incoming knee of Stephen Hunt, resulting in the protective head-gear goalkeeper, Petr Cech, still wears to this day?
Or how about a bone sticking out of their leg, similar to Arsenal's striker Eduardo da Silva, in 2008? During a game against Birmingham City, the Croatian footballer was the victim of a horrendous Martin Taylor tackle. The images that followed showed his Arsenal team mates physically shaken.
The Premier League hasn't all been doom and gloom though. We've bared witness to some outstanding goals. From last gasp winners and 40 yard screamers, to cheeky chips and acrobatic scissor kicks, the Premiership has provided evidence for being named one of the best leagues in the world.
Jog your mate's memories by bringing up a certain Dutch player's world class feet and finishing. Dennis Bergkamp's 2002 goal against Newcastle is regularly mentioned when discussing the top 10 finishes in world football. The Dutch magician made it look easy but like any footballer will tell you, it was simply on another level.
How about Tony Yeboah's ridiculously good strike for Leeds against Liverpool? This suggestion will guarantee unanimous nods of approval. They can't argue with Arsenal's Thierry Henry's sublime turn and volley against Man United in 2000. Things just don't get any better than a sweet strike followed by pure euphoria.
By now, you'll hopefully have enough pub ammo in your arsenal when it comes to those awkward football trivia conversations. Add in a few jokes about how rugby is rubbish in comparison to the beautiful game and you'll fit right in. Finish the proceedings by starting the Messi or Ronaldo debate.
Now that you've just become an expert on football, you'll probably be pleased to know that there are many club and international kits from all over the world available to buy.
Whether you want to wear Chelsea blue or the black and white stripes of Italy's old lady, Juventus, get your favourite player's name on the back for an extra couple of quid. Job done.
Opening Hours and Contact Information
Contacting SportsDirect.com is as easy as 1, 2, 3. All you've got to do is visit their Contact Us page and choose how you would like to carry out your actions. You can email or write by post, either way you can expect a swift reply.
Additionally, some of your questions may have already been answered in their FAQs section, so why not visit there beforehand. You can be sure of receiving the information you require with their hassle free customers service departments.
Company Registration Information
The SportsDirect.com website is operated by SportsDirect.com Retail Ltd. whose registered address is SportsDirect.com Retail Ltd, Unit A, Brook Park East, Shirebrook, NG20 8RY, Company Number: 03406347, VAT Number: GB 898 439743.
Head Office
Sports Direct International plc
Unit A Brook Park East
Shirebrook
NG20 8RY
Latest News
With the 2014 FIFA World Cup in Brazil due underway in a matter of days, SportsDirect.com is currently promoting their World Cup department. It is full of England football kits and merchandise, plus many of the other nations that have qualified to play in the tournament this summer. Prepare for what is going to be the best World Cup in many decades by visiting online at SportsDirect.com.