Debenhams stores have been with the British public a long time and their popularity shows no sign of waning anytime soon! Which is no surprise considering that you can everything from your wedding dress and shoes to home accessories and gifts.
Plus every now and again they throw this little Debenhams sale call the Blue Cross Sale; maybe you've heard of it? Where you can save a huge amount of money throughout the website.
Whenever they have a big sale it is always worth buying things before you need them. If you know a birthday or special event is coming up in 6 months - get the gifts sorted now in the sale and save yourself some money!
Save 10% When you spend £30 at Debenhams
Spend a little extra to get 10% off? Sounds like a great deal to me! If you spend £30 or more at Debenhams and enter the code PP33 at checkout you can enjoy a fantastic 10% saving. With the new Spring collection out, there is bound to be something fabulous to add to your basket.
Final Clearance Sale - Save up to 70%
It is getting close to the last chance saloon to save in the Debenhams start of the year sale. It is already too late to call it just a 'January sale'! Lingerie, watches, fragrances, menswear and suit, plus everything you need for the home. Virtually every Debenhams department is included in the sale. If you want to save big - get a move on. They have some great Toys included in the sale too. Get all your birthday gifts for the kids sorted early in the year and hide them up in the atic - this tactic will save you a huge amount!
Make sure you take advantage of the other offers such as Free Delivery, or £5 voucher with Click and Collect.
Free Delivery
Nobody wants to pay for delivery these days! If you spend over £40 at Debenhams, and are ok to wait a few days for your order to be delivered, they are happy to cover the delivery cost for you. Remember though - with so many Debenhams stores across the country you could take advantage of the Click and Collect service.
Click and Collect
With so many Debenhams stores across the country, and especially if you are working in town, click and collect might be a good option for you. To entice you to pick up your order with their 'click and collect' service they are offering £5 gift voucher for your next purchase. The great thing about click and collect is if you are buying clothing you can try it on then and there and swap sizes if you need to.
15% Off Designer Lingerie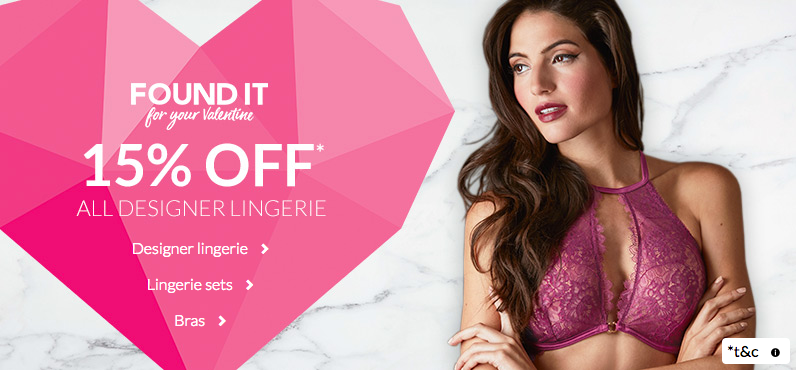 Who says the British can't do romance? (probably the French will claim it anyway!) Well Debenhams are trying their best to help you get your romance on with 15% off all designer lingerie. Some really hot numbers will light the fire in your bedroom and keep you cosy under the duvet on a cold evening. Even if you are single you can get some great underwear bargains in this sale. Not everything is skimpy and see-through! :-)
20% off Bridesmaids Dresses
Colour, style and price are three main of the main things to look for when choosing your perfect bridesmaid dress. Debenhams are now offering 20% off their gorgeous selection and with so many styles available you are bound to find the perfect style for TEAM Bride.
20% off Menswear
Shopping online is quick and easy. Decide what you need, select the style and away you go! This is why men prefer it to popping to the shops, less hassle and no changing rooms. Debenhams are now offering even more incentive for men to shop their collection as they are offering 20% off, including shirts, suits, jumpers, jeans and shoes.
30% off when purchasing 2 or more items of Furniture
With Spring just around the corner is it time to freshen up your home with a new look and some new furniture? Debenhams have a great offer on right now of 30% off when buying 2 of more items. It is super easy to take advantage of this deal by just adding the items to your basket and the discount automatically being applied at the checkout. Also as your order is likely to be above £40 the delivery will be free.
70% off the Debenhams Home Clearance
To go along with the new furtniture you might purchase with the above offer - Debenhams also have 70% off a load of items in the Home Clearance section. Barware, bedding, glassware, and kitchen and dining are all included. You can even stock up on Christmas Crackers cheaply to help save money for next Christmas!
70% off Dresses, handbags and purses
As you have been living and eating healthily since the 1st of January and regularly hitting the gym - no doubt you have shed a few pounds and dropped at least one dress size! Rather than have your dresses hanging off you, take advantage of Debenhams offering 70% off dresses - with styles to suit both work and partying! To help you accesorize your new outfit, they are also offering 70% off handbags and purses.
Half price beauty sets
One thing Debenhams are well known for is their cosmetics section as it is usually placed directly at the entrance so we all have to walk through it. If you didn't get the beauty set you wanted for Christmas there are 2 things you need to do! 1, Get better at dropping bigger hints. 2, Click over to the Beauty sale right now so you can get 50% off the set you did want. Make up and fragrances are included in this sale.
few of the stand out deals are: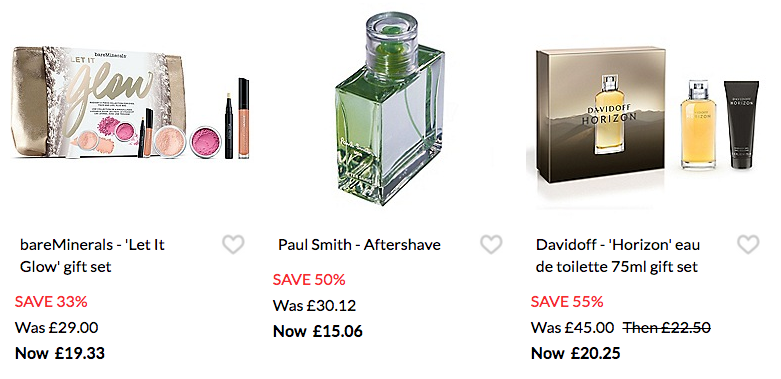 Debenhams Gift Cards and Vouchers
If you are unsure what to get someone for their birthday or other celebration event - a Debenhams gift card is always a good bet. As there are Debenhams stores everywhere you will be certain the person receiving the gift card will be able to
Half price kids coats
Brrrr it is still blimin cold out there! And with all the cold and flu germs going about you want to keep your kids wrapped up warm. Our same money saving advice applies with coats too - even if your kids have coats right now, they are going to grow out of them. Use these big sales to buy ahead of the growth curve and save money now, so you aren't having to pay full price when they do need a new coat.