About easyJet
In 2010, easyJet became the UKs largest airline, and won the Best Short-Haul Airline by Business Travel Awards in 2014. As well as cheap, convenient flights, easyJet offer package holidays, and in fact they have thought of almost everything - your entire holiday can be planned and booked all on one website.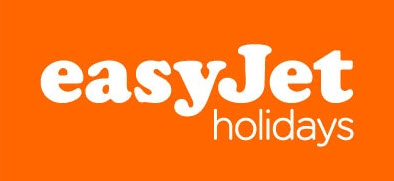 The founder of easyJet, Sir Stelios Haji-Ioannou, launched easyJet in March 1995, flying initially within the UK, from London Luton to Glasgow and Edinburgh. The following year, easyJet ventured into Europe. Now, easyJet Holidays fly to over 100 European destinations in more than 30 countries from 13 UK airports, meaning you are certain to find the holiday you want, whether it be relaxing on a beautiful beach and soaking up the sun-drenched views, or something more adventurous involving sightseeing or even winter sports.

EasyJet cut out the non essentials to make the travel booking process easier, simpler and cheaper, resulting in low cost travel and holidays. But don't worry, with more than 200 aircraft and over 4,500 members of cabin crew, there is no compromise on safety with easyJet, and customers find easyJets's airports and flights convenient for both pleasure and business flights.

EasyJet holidays consist of easyJet flights, and accommodation from lowcostbeds.com, the UKs leading arranger of holiday accommodation. This means that you can find a holiday package to include the flight time that suits you, and the level and grade of accommodation that you want, all in one place.

Plus, you can arrange airport parking, holiday insurance and even car rental for when you arrive at your chosen destination. Speaking of insurance, money paid to easyJet for your holiday is insured by International Passenger Protection Ltd, which covers you for any money you pay for your holiday, in case of cancellation or changes to your holiday due to the insolvency of easyJet.

EasyJet offer holidays to destinations including Spain, Egypt, Greece, Turkey and Portugal. They offer all inclusive deals, ski holidays, and, for those in search of culture, shopping or sightseeing - city breaks to Barcelona, Rome, Paris, Amsterdam, Prague, Budapest, Berlin and Madrid.

If you are looking for a holiday bargain, you will find a 'deal of the day' on their website, plus special offers and late deals; there is a deal of the day under the 'Beach' and 'Ski' Holidays tab. Also, as well as a holiday blog for you to have a read, easyJet have compiled some additional information to help you research your destination and make plans for when you get there.

By clicking on 'Online Check-in' a new easyJet window opens. The website provides plenty of information on holiday destinations, such as what there is to do there and the best attractions, and destination guides.

Searching for Your Dream Holiday

The panel on the left hand side of the easyJet homepage enables you to search for your ideal holiday. You can enter your starting point and destination, your check-in date, holiday duration and number of guests, and also specify a rating (two to five stars) and whether you want full board or just Bed and Breakfast. You can easily see the price per person for the holiday to help you budget.

Booking Conditions when using easyJet
When booking with easyJet holidays the main person who is booking your flights should be a UK resident and over the age of 18, and should be allowed to take responsibility of booking the flights of all the other members flying. If this is not the case then your booking will be cancelled and you'll be told.
When the booking of the seats have been accepted then the payment will be processed. If you haven't had a confirmation message on the website or email, then it will redirect you to a page if not authorised. If you're paying in installements or have a deposit to be paid, then you'll be told the date and have it written down when the final payment is due.

Opening Hours and Contact Information

The telephone number for holiday deals is 020 3757 6463. To book a holiday, if you are calling from the UK, call 0843 104 1000. If you want to change a booking you have already made, call 0330 365 6600. The number to call if a flight only has been booked and you want to make changes, is 0330 365 5000. You can call these numbers between 8am and 8pm.

Company Registration Information

The company registration number for easyJet Airline Company Ltd is 3034606. The registered number for the subsidiary of easyJet plc is 3959649.

Head Office Address

The Registered Office is Hangar 89, London Luton Airport, Luton, Bedfordshire LU2 9PF.