Stylish Gym Attire from Gymshark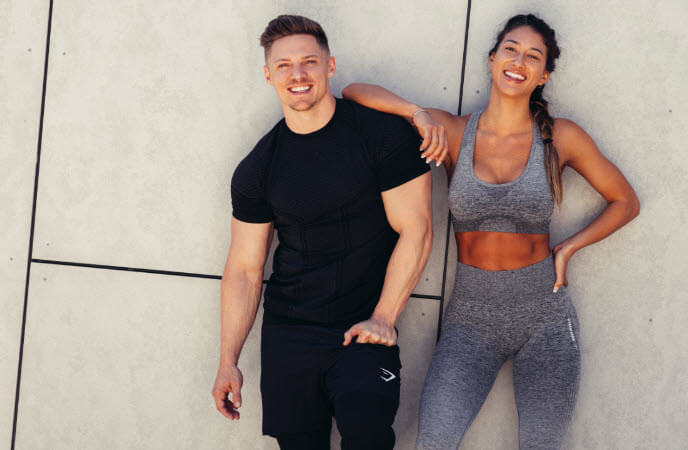 Keeping your fitness levels up can be tricky for a lot of reasons. Firstly it can be quite time-consuming, many people have so many commitments, plans, and work pressures. How are you meant to find the time to fit in an exercise routine as well? Secondly, there is the issue of motivation. Surely you're fine the way you are? After all, we're taught to be happy with ourselves, why do we need to spend hours on the treadmill losing those last few pesky pounds?
Then we have the financial cost. Finding a fully equipped gym with all the state of the art machines and a steam room (if you're lucky) is hard enough. Most people's budgets are already pushed to the limits without tons of extra expenses on top. Gym clothing is another expense, if you're going to act the part then you really should look the part.
Voucher Codes Pro are here to help when it comes to saving customers a few bob. We have a selection of vouchers and offers you can use when purchasing from Gymshark. This helps to ensure everyone comes away from each transaction with the best deal. We hope this means our customers can afford to get everything they need without going over budget.
Some new threads from Gymshark are also sure to help with the inspiration side of things as well, once you try out your new gym gear you're sure to want to show them off a little.
Have we convinced you to shop with Voucher Codes Pro to save on your next Gymshark purchase yet? If the answer is yes then follow these instructions below and your order will be on its way to you in no time.
How to redeem a voucher
Don't let the wonderful world of voucher codes scare you off, it is actually easy peasy to find great ways to save when you know how. Here is a quick step by step.
The first step, once you've decided you'd like to save is to head to the Voucher Codes Pro homepage. Locate the retailer search bar, in the top left-hand corner and conduct a further search for Gymshark. This should take you to the Voucher Codes Pro dedicated Gymshark deals page, where all the best deals are displayed for you to peruse.
Find one that takes your fancy and when you're ready, give it a click. A new tab will open, this should take you to your chosen deal. If you've opted for a voucher code then it will pop up for you to copy. You'll need it later on in the process.
Use the Gymshark website to start your shopping, there is a lot of choices so take your time. Add things to your basket as you see them.
Once you're happy with your basket, not too full I hope, go to the checkout. You may be asked, at this stage, if you'd like to sign up for speedier payment and exclusive deals but you can simply continue as a guest if you wish.
Once on the payment page, you'll be prompted to enter the code from earlier if appropriate. If it was an offer you went for then the discount may well already be taken from the total, making it even easier for you.
Lastly chose your delivery and wait for email confirmation.
Voucher Codes Pro love hunting down vouchers and offers for Gymshark - a company becoming known for their inspirational edgy clothing and reasonable prices. We believe in great quality items for everybody without ridiculous prices. With a voucher or two from us, that's what you can achieve. If you're interested in learning a little more about this exciting company have a look at this short company history below.
History
Gymshark is an online manufacturer and supplier of innovative, effective sports apparel and accessories. The company was founded in 2012 by teenager and pizza delivery guy, Ben Frances and a few of his school friends.
After humble beginnings, in his mum's garage, this company has really sprung to life. Now boasting a strong social presence of over 3 million followers across multiple platforms and supplying their goods to over 120 countries. Today Gymshark is a million pound business.
They have become so successful due to their ever expanding social presence and their commitment to the Gymshark vision which states that "before there is action, there is an idea". Fitness fanatics and their idols are being brought together through the power of social media.
The brand focuses heavily on the future of sports performance clothing fashion and therefore are incredibly progressive in their ideas. If you're after the latest gym looks and styles then you've come to the right place.
Top Products
Gymshark feature both a menswear and a womenswear section, currently the menswear section is a little larger. Both are doing well. The aim of the company was to create gym gear that young fitness fans wanted to wear when they train. Baggy unflattering items were binned and tight figure hugging clothing was designed to be comfortable, fashionable and functional.
Their accessories section features a selection of large gym bags, perfect for gym visits at any time of the day or night. They also have a selection of water bottles to suit all workouts. The 2.2-litre bottle is particularly impressive.
Leggings, underwear, sports bras, hoodies, and shorts are all available in stunning designs and an array of colours. Collections for particular sports such as running and cycling are also currently being designed. We believe it is only a matter of time before footwear arrives.
Gymshark is always looking for new ways to innovate and are currently developing and improving their moisture wicking technology range but they have even bigger plans than that.
Clothing that prevents wearers from injuring themselves and even a collection of items that provide extra energy as you train have been mentioned, so watch this space. Exciting things seem to be in the pipeline.