About Hotel Chocolat
Britain loves its choccie! That much is clear but in recent years we really have been craving luxury brands thanks to their indulgent taste and exciting flavour combinations. Hotel Chocolat is one such chain that has exploded in recent years, with hundreds of stores appearing across the country and a big online store to help us get our yummy chocolate fix!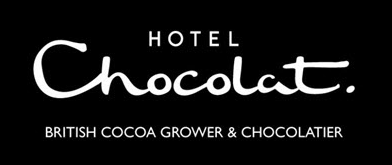 Originally a mint seller in 1988, Hotel Chocolat successfully rebranded and restyled itself into a powerful British chocolate brand and branched out from its original location. There are now stores appearing around the world, spreading the love of top quality chocolate.
Hotel Chocolat does something very unique with its business approach. For a start it is the only UK business that owns its very own cocoa plantation, meaning all of its chocolate is created by the company, the cocoa is own grown and isn't imported.
Secondly not only do they offer products in the usual way but there's also the Taster Club. This membership scheme helped raise the company to its current heights. Monthly subscribers get sent new chocolates straight to their door, meaning something new and exciting each time.
Then there are the giant slabs, an original creation from Hotel Chocolat. These slabs of chocolate goodness are formed in a unique way and come in a variety of toppings and versions, plus seasonal variants. Something to really sink your teeth into.
Additionally Hotel Chocolat have a range of hotels and spas, tasting factories and even a range of beauty products that harness the luxurious qualities of cocoa. Basically it's a chocolate lovers dream. One last feature? Their hot chocolates contain less sugar and more rich cocoa than rivals, making for a luxury lunchtime treat!
Their online store features their most popular products and you can also sign up to the Taster Club through the site. Voucher Codes Pro have all of the latest deals, offers and money saving voucher codes available in one convenient location, so you can shop more efficiently!
Delivery Information
Hotel Chocolat ensure that all of their customers receive their goods on time and in pristine condition and this is why that have meticulously designed careful packaging, as well as offering a number of delivery services to ensure of their safe arrival.
Standard Delivery starts from £3.95, which will take 3-5 days. There is also Nominated & Next Day, which is available for £4.95. But that's not all believe it or not! You can also choose Saturday Delivery or same, but you have to order by a specific time.
For more information on the delivery services at Hotel Chocolat, visit: http://www.hotelchocolat.com/uk/help/delivery
Social Profiles and Links
Facebook: https://www.facebook.com/HotelChocolat
Twitter: https://twitter.com/HotelChocolat
Pinterest: http://www.pinterest.com/hotelchocolat/
Google +: https://plus.google.com/u/0/+hotelchocolat/about
Opening Hours and Contact Information
Hotel Chocolat operate many different business segments, however their general store/restaurant opening times are as follows:
MON – SAT: 10:00 – 20:00
SUN: 11:00 – 17:00
Bank Holidays: 11:00 – 18:00
Please be aware that different stores across the country operate under slightly altered times. This page has all the information you need on all of the stores in the UK!
http://www.hotelchocolat.com/uk/chocolate-shops
Contact details are as follows:
Live chat (Bottom right!): http://www.hotelchocolat.com/uk/shop
Customer Service Number: 03444 93 23 23
Ordering Number: 03444 93 13 13
Company Registration Information
Company Registration Number: 02805730
Head Office Address
Mint House
Royston
Hertfordshire
SG8 5HL