About Mark Warner Holidays
Today Mark Warner Holidays is one of the UKs top independent travel companies. They pride themselves in providing fun family and couples holidays with all the little extras included.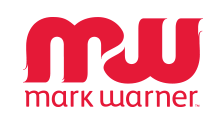 Founded in 1974 by Mark Chitty and Andrew Searle, the company had only one ski chalet in Switzerland in the early days yet has now expanded monumentally. This little travel agent has become a trusted provider and over 50,000 people now come to Mark Warner Holidays when they need a break.
Currently there are 8 resorts in summer destinations such Turkey and Greece. 12 ski resorts are also in operation around the French Alps, Switzerland and Italy. These all feature the famous chalet hotels.
This business caters to a huge amount of people from groups, family or couple's. This was not always the case. The first few years found the getaways best suited for single people or couple's.
Some of these destination have amazing childcare facilities so the adults can have a break and some adventure whilst still giving the kids a holiday, some resorts stay closer to the intended idea and are child free.
Always inventive in its ideas and products the founders have always works very hard to ensure their customers are always given the best that is on offer. This is one of the reasons Mark Warner Holidays continues to do so well. They focus on sporting activities such as water sports, tennis and skiing and work the holiday around these. More relaxed packages are also on offer of course.
2010 saw the introduction of a new branch of the company Mark Warner Properties. This company will help people to buy holiday homes in Austria and Switzerland.
There is no stopping this innovative travel agents now. Just last year they achieved a phenomenal three awards at the British travel awards. These included Best Activity/Sports Holiday Company, Best All Inclusive Holiday Company and Best Ski and Winter Sports Holiday Company.
If that wasn't enough they also managed to bag the Telegraph Travel Award for best ski operator. With the company's commitment to customer service and the best faculties it is no wonder they are head and shoulders above the rest.
How to use Mark Warner Holiday vouchers.
It really is very easy to use all of the Mark Warner Holiday vouchers. In just a few simple steps you have the potential to save mega money on your summer holidays.
Locate the Voucher Codes Pro website and have a search for Mark Warner Holidays. Use the search bar that can be found at the top of the home page. This will find you every deal from this company that is currently in use.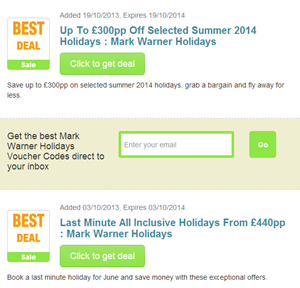 Find one that stands out for you and click on it. This will take you to your chosen deal on the company's website. Find your dream destination and begin to book your holiday. As you go through this process the option to enter in any promo codes will be clearly stated.
Once your getaway is book it is just a matter of waiting for this day to arrive. Why not share this amazing deal with your friends and family on Facebook, Twitter or Google Plus. There is no better feeling then sharing a good deal with loved ones.
Social Links and profiles
Website- http://www.markwarner.co.uk/
Facebook- https://www.facebook.com/mwholidays
Twitter- https://twitter.com/mwholidays
Opening hours and contact details
Today Mark Warner Holidays is predominantly an online holiday provider. So you can book you dream holiday at a time that suits you.
There is still one store in in London that is still open and is also functional as the head office. The opening hours are 9am until 6pm Monday though to Friday. Saturday hours are 9am until 5pm and Sunday the business is closed.
If for any reason you feel the need to contact the team then please don't hesitate. The email address for the customer service department is customerservices@markwarner.co.uk. Alternatively you can ring the customer service team on 0844 273 6033. The lines are open 9am until 7pm on weekdays, 9am until 5pm Saturdays and 10am until 4pm on Sundays.
Company registration information
Mark Warner Holidays is part of Mark Warner Limited.
The company registration number is 02434787.
Head office address
Mark Warner Ltd
20 Kensington Church Street
London
W8 4EP
Latest news
This summer Mark Warner Holidays are getting everyone in the mood for Wimbledon with intensive tennis week packages. These weeks involve many hours of court time with some LTA qualified instructors that are available in the resort.
With singles and double's tournaments as well as speed games you will find yourself a pro by the time you leave. Evening entertainment is also organised so you can relax and enjoy some time with like-minded tennis enthusiasts.
These weeks are offered at only £200 more than the original holiday price and are taking place in a number of exotic places. The perfect holiday for any aspiring Tim Henman's out there. For full details have a look on the Mark Warner Holidays website.