About Route One
Route One was originally founded in 1989, with their first store above a grocery store in Bath. Started by two ex city-workers, this company has grown from humble beginnings into one of the largest independent retailers in the UK. Selling street and skate fashion, from over 450 brands, Route One takes inspiration from the Californian life. Along with their clothing and footwear ranges, they also sell gadgets, toys and gifts, accessories and skateboards.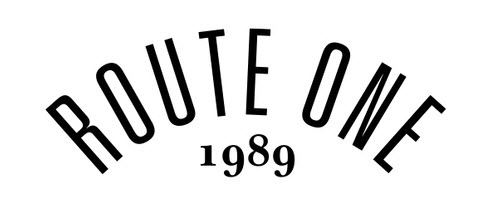 The name Route One came from the way the company sourced their products, directly from USA, Europe and Asia. Their team searches for the best products available, before finding the quickest way of getting them to the UK; the one route. This commitment to being the first is something the company still aims for today, with their website stocking hundreds of products in the UK before anyone else. However, instead of the two owners making 150 trips abroad, there is now a whole team to source the best products.

On the Route One website you will find a large range of brands, including DC, Vans, Supra, Carhatt and even their own branded clothing. Those who love street and skate fashion will find their favourite manufacturers being sold by Route One. There are over 9,000 products in total, on the Route One site, but it doesn't stop there. The website is also home to exclusive interviews, interactive competitions and behind the scenes footage with brands and athletes. They also hold various events around the UK, including their popular 'Route One Free Skate Days', which attract thousands of action sports fans from around the World.

Route One is proud of their team, stressing that their people are very important to them. Without their team behind them, they say they would not be where they are today. The company has been nominated for, and won, several highly coveted awards over the years, including; Draper's 'Best Independent Retailers' in 2011. Due to their success, they have recently launched in Europe and continue to grow. Sticking true to their roots and providing some of the best products in the street and skate fashion World, Route One has set themselves apart from other independent retailers.

There are a wide range of delivery options available, including free delivery for orders over £60 and bikes. Route One now ships to the whole of Europe, also.

Buying guides
Route one offer a number of buying guides which offer help, information and advice on which product would be best for you. This ranges from skateboards, to denim.
The skateboard buying guide looks at all the individual elements go together, you can either find a complete skateboard that you like or you can build one from scratch. Some of the parts include the wheels, grip tape and bolt and bearings. Not forgetting the safety produced as well such as helmets and knee pads.
For all your skateboard needs you can visit Route One and come away happy. While you are on the site don't forget to have a quick look at the blog, news and reviews can be found in one place.
Opening Hours and Contact Information

The Route One website is open 24/7, so you can always buy the things you want at the times you want! You can also find out the opening times of your nearest store, on the website. Customer services are open Monday to Friday from 8.30am until 5pm, they are closed on Bank Holidays. You can call their customer service department on 0800 316 8812.

You can also get hold of customer services using the contact form on their website, here:
http://www.routeone.co.uk/contacts/

If you would prefer to write to the head office, then their address is:
Route One
The Buffer Depot
Badminton Road
Acton Turville
South Gloucestershire
GL9 1HE

Company Registration Information

Route One Retail Limited
Company number: 05078588
Registered head office address:
Route One
The Buffer Depot
Badminton Road
Acton Turville
South Gloucestershire
GL9 1HE

Latest News and Commentary

Route One now stocks the latest Almost Skateboards and DC Comics collection, featuring characters from popular comic books. These Pro Decks are now available in stores and on the website; and they're apparently flying off the shelves.

Almost Skateboards and DC Comics released a collection of Super Hero Pro decks recently, featuring characters such as Superman, Batman and Wonder Woman. This latest collection is the Super Villains, featuring all of their arch enemies. You can now get Pro decks with The Cheetah, Black Manta, Darkseid and The Joker, to name a few. The back of the deck features the villain's face, with the front of the board showing the hero and nemesis together. These decks have jumped on the popularity of comic books, in recent times, to create some truly fantastic skating accessories. They're available online from £49.99.