About Furniture Village
Furniture Village is one of the UK's leading homeware retailers, with the company starting life in 1989 when it opened its very first store in Abingdon. Since this time it has grown to now encompass more than 40 retail outlets in a number of locations around the UK, as well as an online store.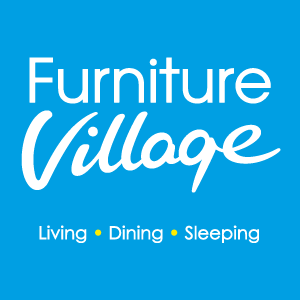 The company believes in offering customers only the very best products and to this end they stock some of the biggest brands in household furnishings. Customers that visit the website or a store will find a friendly setting where they can discuss their requirements with a consultant and choose from brands that include Collins and Hayes Furniture, Tempur, Silentnight, Parker Knoll, and Content by Conran, to name just a few.

Their retail outlets and online operations have furniture for all rooms in a home. This includes sofas, armchairs, and TV cabinets for living rooms; beds, mattresses, and dressing tables for the bedroom; and dining tables, chairs, and barstools for the kitchen.

These are only a few of the many furniture pieces that are available for sale though and this ensures that customers can find everything they need to furnish their home in one convenient location.

Furniture Village also stocks a range of household accessories that can be used to enhance the look of a home. This includes a variety of stylish lighting that includes floor lamps and table lamps.

Other accessories available include cushions, pillows, rugs, wall art, clocks, vases, and more. Anyone looking to add a little extra to the appearance of their home should be able to find something to suit from the extensive accessories range.

Customers will also find products for the outside of their home, with a range of garden furniture available for sale. This includes all-weather tables and chairs, as well as sun loungers, hanging seats, day beds, patio furniture, and planters.

When it comes to household furnishings and accessories, Furniture Village has a huge range of top brands to choose from and offers these at competitive prices. This means that anyone visiting a store to buy or purchasing online for delivery is provided with one of the best choices around for fitting out their home.

0% APR Interest Free Credit
Furniture Village offer 0% APR Interest Free Credit for up to 3 years. This fantastic option is available online, in-store or over the phone, which is phenomenal!
There is a deposit to pay, but you can select from either £50 or £60 monthly payments over a select period of time. If you choose to pay via Interest Free Credit, simply select the option when you're checking out online or speaking to a consultant over the phone.
The length of the repayment period depends upon how much you spend. However, you will be told via a consultant or be given the information as you proceed through the checkout process online. The repayments begin one month after collection or delivery and there are no hidden extras.
For all the information on Interest Free Credit, visit: http://www.furniturevillage.co.uk/Customer-Services/Buying/Payment-options/Interest-free-credit.aspx

Opening Hours and Contact Information

The Furniture Village website is available around the clock to allow customers to browse and shop at their convenience.

The opening hours for their stores can vary by location although typically they operate from 9.30am to 8pm during weekdays, 9.30am to 6pm on Saturday, and 11am to 5pm on Sunday. The Find a Store section on their website provides opening times for each of their stores.

Furniture Village provides a few options for those that want to get in contact with them and the details of these can be found by using the Get in Touch icon on their website.

It is possible to talk to their customer services between 9am and 8pm using the free phone number 0800 804 8879 and if you cannot get through a submission form is available on their website to request a call back. There is also an online form that can be used to submit a message and a live chat service is available for customers using the website.

Company Registration Information

Furniture Village Limited

Company Registration Number: 02307708

Registered Head Office Address: 258 Bath Road, Slough, Berkshire, SL1 4DX

Latest News and Commentary

Visitors to the Furniture Village website now have the chance to take advantage of a welcome promotion that offers a £25 reduction in purchase price. This is free to sign up for by joining their newsletter and can be redeemed on the website or at one of the company's store if used within 6 months of receipt on a purchase of greater than £100.

It's a great way to bag a bargain on some of their latest products, which includes the reclining Wave chair and footstool. This is an attractive faux leather piece that is comfortable to sit on and also includes a wave-effect massage feature that will help you relax even more.

Other new products to choose from include the ultra-modern Thomas laptop table, the contemporary Corfu dining table and chair set, and the more traditional-looking Parker Knoll Salisbury sofa. Take your pick of these and more to add some style to the rooms of your home.